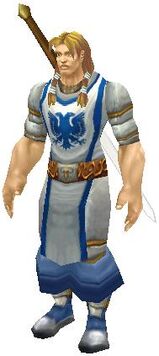 One of two bastard twins, sons of King Alford Menethil of Lordaeron. Andol Corin and Tileot Menethil were the results of a coupling between Margaret Corin and Alford in the spring of their lives. Politics of nobility and royal blood prevented the two from ever being together, however. Margaret was sent back to her home at Corin's Crossing on a pension, abandoned. Alford was not informed that he had two children; twins. Margaret revealed but one of the sons, and gave that child to Alford. The other, Andol, she chose to raise as her own without his knowledge.
Tileot was disguised as being the son of Alford's brother, Bauros Menethil, to prevent scandal.
Family tree
Edit
Ad blocker interference detected!
Wikia is a free-to-use site that makes money from advertising. We have a modified experience for viewers using ad blockers

Wikia is not accessible if you've made further modifications. Remove the custom ad blocker rule(s) and the page will load as expected.