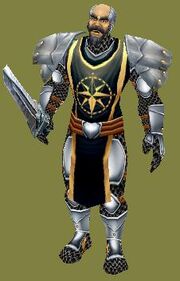 The Count of Soben was a steadfast royalist and friend of King
Viktor Greymane
. He fought on the side of the Lightists in Gilneas' civil war, against the forces of General
Mordred Baldanes
. Soben was one of the first cities to fall under siege in the war, however, and was helpless to intervene at
Henlinn
, where the treachery of
Parisot de Bracy
cost the royalists the war. With Henlinn out of the way and Soben isolated and helpless, Viktor Greymane capitulated at Ginchar.
After the civil war, Soben laid low, until Ercate Sorsbrent raised an army and began making conquests towards Ginchar. Soben ended up pledging his forces to Ercate, though distrustful of him in certain regards. At Ginchar, Viktor Greymane lost his life. Soben remained loyal to Ercate, and followed him towards Zanzifos to put down the Azure rebellion. Mordred Baldanes revealed himself and in a great battle outside of Zanzifos, Soben lost his life. His nephew, Cemal Soben, took on the mantle of Count in his stead.
Ad blocker interference detected!
Wikia is a free-to-use site that makes money from advertising. We have a modified experience for viewers using ad blockers

Wikia is not accessible if you've made further modifications. Remove the custom ad blocker rule(s) and the page will load as expected.