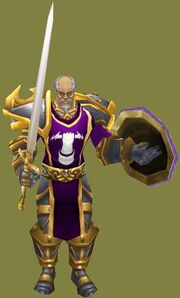 Levin Rovandiel was a member of the
Perinany Legion and
one of the "Fist of Humanity" leaders. A white skinned bald man with a grey beard, Levin was the oldest of the fist having 56 years on him during the Great War.
Levin was the most cautious of the fist, his motto was "A man grows withered and old on more than just luck." While a good commander in battle, Levin truly shines when he administrates the infrastructure of civilians, he was a master bureaucrat and can administrate a place to function with an effectiveness that would make the elves green with envy. While the majority of Perinanies were Lightists, Levin was in fact a Muharist. It did not affect his allegiance, and he made this abundantly clear during the Great War.
Died in battle with Hesperians shortly after retreating from Ambermill.
Ad blocker interference detected!
Wikia is a free-to-use site that makes money from advertising. We have a modified experience for viewers using ad blockers

Wikia is not accessible if you've made further modifications. Remove the custom ad blocker rule(s) and the page will load as expected.