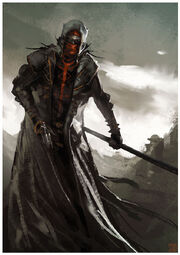 The Duke of House Waite of
Grinwillow
was one of the four leaders of the
Esoteric Order
during the Great War. He was the oldest of the dukes and therefore it was no surprise that he was also the most conservative. Along with Duke
Ligdus Galmin
he was suspicious of the promises of
Men'heva
, but unlike Ligdus, he kept a low profile.
He sent his relative, Barnabas Waite, to act as advisor to Ewekapu Marsh to strengthen the ties between House Marsh and House Waite, as was tradition in Grinwillow.
He was killed by one of the Keepers at the request of Mathredis Firestar for control of his Reformed Ones.
Ad blocker interference detected!
Wikia is a free-to-use site that makes money from advertising. We have a modified experience for viewers using ad blockers

Wikia is not accessible if you've made further modifications. Remove the custom ad blocker rule(s) and the page will load as expected.