Go'el

Hell's Hammer

Timeline:

The Age of Men'heva

Affiliation:

Burning Legion

Occupation:

Warchief

Status:

Alive

Gender:

Male

Species:

Fel Orc
In the Age of Men'heva, Go'el (known as Thrall in the modern timeline) was the fel orc warchief of the Horde and served the masters of the Burning Legion.
Role in the Great War
Edit
Go'el was an orc born on the planet Draenor. Due to Men'heva's manipulation of the timeline, the Guardian Medivh never came to exist and never opened the Dark Portal. As a result, the orcs never left Draenor.
Corruption became endemic and the Burning Legion took full control of the planet. All Draenei were wiped out and all orcs became corrupted tools of the Burning Legion.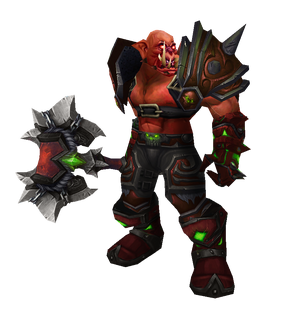 When Men'heva opened a Dark Portal of his own in an attempt to instigate the Awakening, he inadvertanly opened a portal that would allow the Legion to invade Azeroth again. Go'el lead the initial warriors of the legion across the Portal to attack Men'heva's followers and personally killed Philosoraptor in the assault.
Ad blocker interference detected!
Wikia is a free-to-use site that makes money from advertising. We have a modified experience for viewers using ad blockers

Wikia is not accessible if you've made further modifications. Remove the custom ad blocker rule(s) and the page will load as expected.