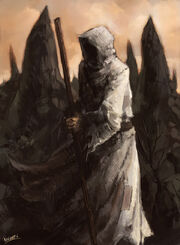 When
Carolus Alden
declared himself Archbishop, splitting Stromgarde off from the reign of the Church in Lordaeron, many orthodox priests rebelled and went into exile, led by Daneb.
Duokas
departed with him. They allied with the clans of
Mallick Vitalian
and
Lukas Notaras
, one of Eralas' former ministers. A failed uprising led them nowhere, but when
Kariel Winthalus
contributed his aid the rebels managed to take Stromgarde by force.
Alden was killed and Daneb became the figurehead for Lightists in Stromgarde, though in truth he was little more than a puppet for Vitalian to keep the people in line.
Ad blocker interference detected!
Wikia is a free-to-use site that makes money from advertising. We have a modified experience for viewers using ad blockers

Wikia is not accessible if you've made further modifications. Remove the custom ad blocker rule(s) and the page will load as expected.