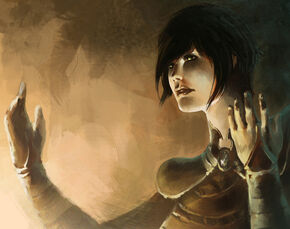 Asenath Derleth, daughter of Gerald A. Derleth. Like all the women of Middlecreek, she was forced into sexual slavery after the Siege of her home was concluded. Ephraim Marsh gave her as a gift to Ishmael Khalabrond, who refused to partake in such barbaric practices and freed her. She accompanied him off of the island as his guest. Evidently, they grew close and became intimate. Asenath became pregnant with his child, or so it was rumored.
Ad blocker interference detected!
Wikia is a free-to-use site that makes money from advertising. We have a modified experience for viewers using ad blockers

Wikia is not accessible if you've made further modifications. Remove the custom ad blocker rule(s) and the page will load as expected.