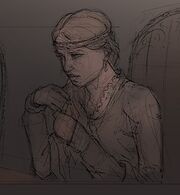 Arinre Greymane
was the wife of
Ercate Sorsbrent
and daughter of
Viktor Greymane
. She eventually became Queen of Gilneas after murdering her husband in secret. Giving birth, she found herself the mother of twin boys.
She eventually became engaged and was married to Linus Wrynn. For some reason.
Shortly after she fell alongside her greatest fan, Nicholas Damasus, by the god of shadows, Tobijah Kruel. She was somehow extracted by the Benefactors under Seranidan alongside Wrynn for use as a hostage to stop Stormwind's invasion of Boralus, a plan which failed.
Family tree
Edit
Ad blocker interference detected!
Wikia is a free-to-use site that makes money from advertising. We have a modified experience for viewers using ad blockers

Wikia is not accessible if you've made further modifications. Remove the custom ad blocker rule(s) and the page will load as expected.